Dr Catherine Nyuthe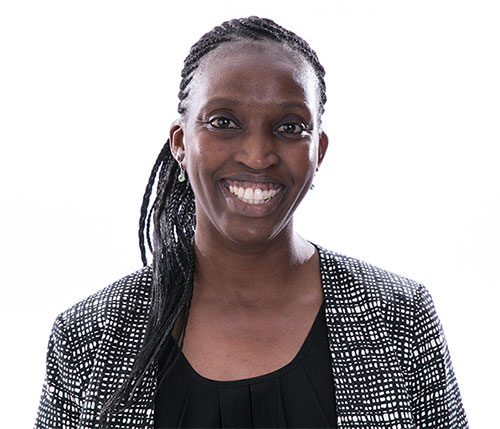 Psychiatrist
Dr Catherine Nyuthe (pronounced Nyoo-they) is a highly experienced consultant psychiatrist who offers treatment services for men and women suffering mental health issues.
She completed her Bachelor of Medicine and Surgery (MBChB) at the University of Pretoria in South Africa in 2002. She spent the next two years working in public health in Cape Town after which she worked in the National Health Service (NHS) in England from 2005 to 2007. She returned to Cape Town to complete specialist training in Psychiatry and was admitted as a Fellow of the Colleges of Medicine in 2010 (FCPsych).
Since emigrating to Australia in 2011, Dr Nyuthe has held public appointments at Maroondah, Box Hill and Angliss Hospitals, working in the inpatient and community mental health settings with people with mental illness.
She was admitted to the Fellowship of the Royal Australian and New Zealand College of Psychiatry (RANZCP) in 2013. In addition, she holds an Associate Fellowship from the Royal Australasian College of Medical Administrators (AFRACMA), a Specialist Certificate in Clinical Leadership and a Graduate Certificate in Clinical Education from the University of Melbourne. She is an RANZCP-certified Consultation Liaison Psychiatrist (Cert. Consul. Liaison Psych.).
Dr Nyuthe has provided expert witness testimony in Victorian Courts and has had formal training and experience in writing fitness for duty reports including for corporate businesses, the NDIS, WorkSafe, Comcare, TAC, CFA and the Department of Veterans Affairs (DVA). These medicolegal services are not Medicare-rebatable and will carry a fee indicative of the time involved in report preparation.
Another passion is clinical education of medical students, psychiatry trainees and allied health colleagues. Dr Nyuthe is happy to be speak to GP colleagues about psychiatric issues their patients may be facing.
Outside of collaborating with patients on their mental health recovery journeys, Dr Nyuthe is a voracious reader, preferring non-fiction works. She also values spending time with her young family.
Dr Nyuthe offers private consultations from her rooms at Silk Medical Specialists Suites in Mount Waverley.
Book an appointment