Post-Traumatic Stress Disorder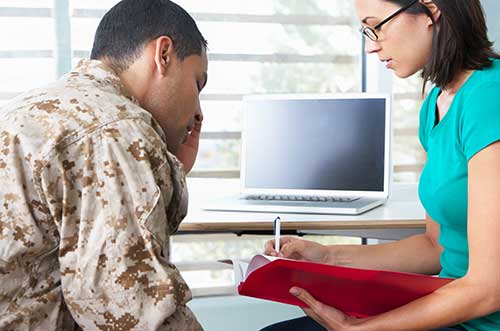 Post-traumatic stress disorder (PTSD) is a complex mental health condition. It can develop in people who have experienced or witnessed severe trauma such as a serious accident, sexual or physical assault, war or disaster. Veterans are particularly susceptible to experiencing PSTD after returning from war.
Most people who are exposed to a trauma will experience reactions and changes in their life immediately following the traumatic event and in most cases, they will resolve themselves quickly and not develop into PTSD.
Symptoms
PTSD symptoms usually begin shortly after the trauma but can sometimes not present until years after the event. There are four main categories of symptoms to look out for:
Reliving the traumatic event through memories
Avoidance of reminders of the event
Feeling negative and emotionally numb
Being overly alert and reactive
It is important to note that each person will experience symptoms, emotional and physical reactions differently.
Treatment
It is very important to get treatment for PTSD. Effective treatment can involve a combination of psychological treatment and medication. Dr Catherine Nyuthe will assess patients and prescribe appropriate treatment for their individual diagnosis, experience and preferences.
Appointments
If you think you or someone you care about may be suffering from PTSD, please contact our clinic at Silk Medical Specialist Suites on (03) 9886 7788 to see if Dr Nyuthe`s care may add value to your recovery.